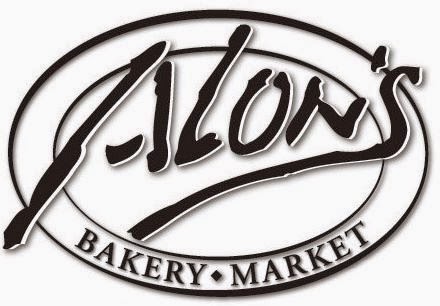 I hope every mother got to enjoy a wonderful day that's all about you!  For those of you who went to brunch/lunch and enjoyed it, I would love to hear about where you went.  Personally I had quite possibly my most enjoyable Mother's day ever.  My husband Ed, and two daughters, Alaina and Sophia, started out by ushering at the contemporary service at DUMC. It was a great way to jumpstart our day.
From there we went to meet my mom, Phyllis, at Alon's Bakery and Market.  There were many great restaurants to choose from but I am SO glad we chose to go to Alon's.  Their buffet was out of this world!  They had wood fired pizzas, lamb with a spicy tomato sauce, hand carved turkey and prime rib, two different types of beautiful salmon, roasted vegetable, cheese grits, mac and cheese and more.  Additionally, they were cooking up made to order scrambled eggs, which are always a hit.  If all that wasn't enough, you then move on to the salad table.  Wow was my comment when I saw the creative and delicious spread.  Shrimp salad, fingerling potato salad, kale salad, Caesar salad and my favorite, beet salad.  If that weren't enough, there were many more salads to choose from.  I was just trying to pace myself (HA)
When I got to the dessert table, I decided to pass because my experience with beautiful and fancy desserts is that they never taste as good as they look.  Because my family was raving about them, I had to go back and try one of each!  All I can say is that they were worth every single calorie!
I was also so impressed that Exec chef/owner Alon Balshan, was very visible throughout the entire brunch.  He answered questions that people had about different dishes and asked several people about how they were enjoying everything.  I wouldn't sleep for a month beforehand if I knew I had to pull that kind of brunch together.
I inquired about whether or not they will have this type of brunch buffet on a regular basis. Sadly they will not, although my waistline will be thanking them.  Fortunately, Alon's will be serving a traditional brunch on Saturday and Sundays.  I again asked, and Alon Balshan will be the chef running everything that comes out of the kitchen so I'm sure it will be great!  I look forward to trying their weekend brunch.
Once again, I would love to hear how your dining experiences were on Mother's Day. Please leave a comment on this post or email me:  (patty@theahaconnection.com)  This is always good information to have and share.
Until We Eat Again!
Alon's Bakery and Market
Park Place across from Perimeter Mall on Ashford Dunwoody Rd.
http://www.alons.com/