by Audra H. Anders for The Aha! Connection
Peggy sent me this link and said Melissa Martin had reached out to us inviting us to come check out AR Workshop in downtown Chamblee.  I immediately responded yes, yes, yes, when can we go?  Peggy, Lauren, and I scheduled as quickly as we could and had our team building workshop date on March 3rd.   
AR Workshop is basically a "do it yourself" studio where you can create original home decor from raw materials – wood signs, canvas pillows, bottle openers, cozy blankets, serving trays, dog beds, door mats and so much more!  I am not crafty per se but I love coloring books, painting furniture, and old wooden pallets plus my home is full of wooden signs with fun sayings and Bible verses.  I also love projects that keep my hands busy, and my mind worry free.  Plus, who doesn't love downtown Chamblee and beautifully converted old buildings?  As I scrolled through the available projects, I found more than 10 projects I wanted to do within seconds.  Lucky for me, Melissa chose my project for me because she wanted me to make a wooden sign version of The Aha! Connection logo to help promote logo workshops plus she thinks (and I agree) the AHA! logo is so fun and colorful!  Watch this 37 second time lapse video of my project from beginning to end!  Isn't it amazing!?
We painted, stained, picked at stencils, and used power tools for about 2 1/2 hours.   It was AWESOME and "so satisfying"!
I'll show you some examples of their projects plus the final projects that Peggy, Lauren and I created but first let me tell you to go ahead and sign up for a date night with your hubby to make a corn hole project, or grab your neighborhood girls group and pick a mom's night out.  I'm planning to get my empty-nester friends over there ASAP (Y'all empty-nesters know who you are so get ready for my call!).  They can accommodate up to 24 in a very Covid-friendly atmosphere.
Melissa and her co-worker Melissa (yes, two Melissas) are so helpful!  You pick your project, and they get everything ready for you and follow your project progress step by step.  Even if you get ahead of yourself and mess something up, they have a fix for everything!  
Pictures are worth wayyyy more than words so let me show you the gallery from mine, Peggy, and Lauren's cameras.  
So, I'm not related to the Anders in the Anders Ruff name…..(too bad).  Her name is Maureen Anders and her business partner is Adria Ruff.  They are the designers behind the 2010 design company Anders Ruff®.  Maureen and Adria had demands from fans and clients to offer hands-on workshops where they could teach their skills to others.  Their dream of coming out from behind the screen to offer DIY workshops for home decor and other creative skills came true!  The vision was to create an inspiring and charming boutique workshop that not only offers classes but sells unique and beautiful retail items.  Now, over 3 years later, they have more than 150 franchise locations across the country!  Yay for the one in Chamblee, Georgia!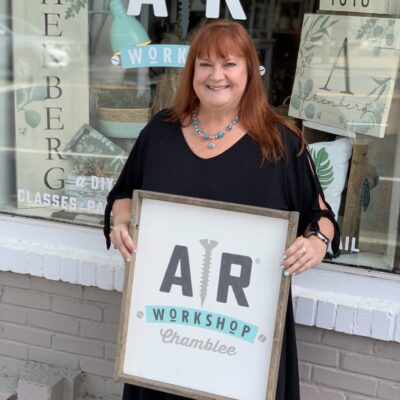 AR Workshop Chamblee is owned by Melissa Martin.  Melissa has been a crafter her entire life and always knew that one day she wanted to own her own business but was not sure what that would be or look like until she attended a class at an AR Workshop.  The moment she walked in the door she knew this is what she wanted her business to be.  So, after 25 years in corporate America as a medical malpractice insurance underwriter, she finally threw the towel in and decided to open an AR Workshop.  Peggy, Lauren, and I are oh so thankful and will be back again and again!
AR Workshop Chamblee
5441 Peachtree Road
Chamblee, GA 30341
470•208•3399