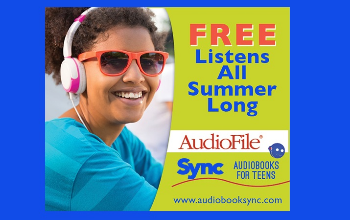 AudiobookSYNC is a program for teens, ages 13+, to access free audiobook titles during the summer. Each week, beginning April 30th, two audiobook titles are released for download. Most of the time, the audiobooks are YA novels, but some classics are sprinkled in, as well. The two titles are "synced" by having a common theme.  This year, the free YA audiobook program is utilizing the Sora app (see previous information on Sora). Here's how it works:
First, go to the AudiobookSYNC website (https://www.audiobooksync.com/) to register your email address.
Once your email address is registered, open Sora from Clever Launchpad (https://clever.com/in/dekalb?skip=1), and add "audiobooksync" as a public library. See instructions below. Then, you're all set to start downloading on 4/30! You can also sign up to receive text alerts when new titles are added, so you don't miss out. Titles are available for ONE WEEK ONLY!
In Sora, you'll need to add the SYNC program's library. Here are the steps:
In Sora, open the menu (in the top-right corner).
Select Add a public library.
Search for audiobooksync and select the library from the results
Confirm the email address you registered on the website.