Rent-A-Teen ~ Odd Jobs & Chores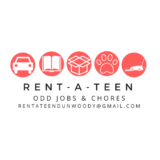 Business Name:
Rent-A-Teen ~ Odd Jobs & Chores
If you need any help from teenagers read on…. 
Our business is as simple as it sounds. Contact us and we can send you someone to do all the chores you've been dreading; including anything from babysitting… to pet sitting…to yard work…. to driving your kids to their annoyingly far away baseball practice!  If you aren't sure whether we can do the job for you, email us and we will let you know and provide you with a quick quote. We are rising Dunwoody High School Juniors getting a one year head start on our Academy of Finance business.
A few of the Jobs We Can Do:
Lawn Mowing/ Yard Work
Heavy Lifting/Moving
Pressure Washing
Babysitting (We have teen boys and girls on staff)
Driving Your Kids to Camps, Practices, Pools….
Pet Sitting
Tutoring
Ring Doorbell Installation
Coaching for (Baseball, Football, Basketball & Other Sports)
Etc. (Email us and we will let you know)
We can provide references from coaches, teachers, employers, and/or parents.   We are endorsed by The Aha! Connection because Mrs. Anders personally knows and highly recommends all of our teen employees.
Send Message to listing owner