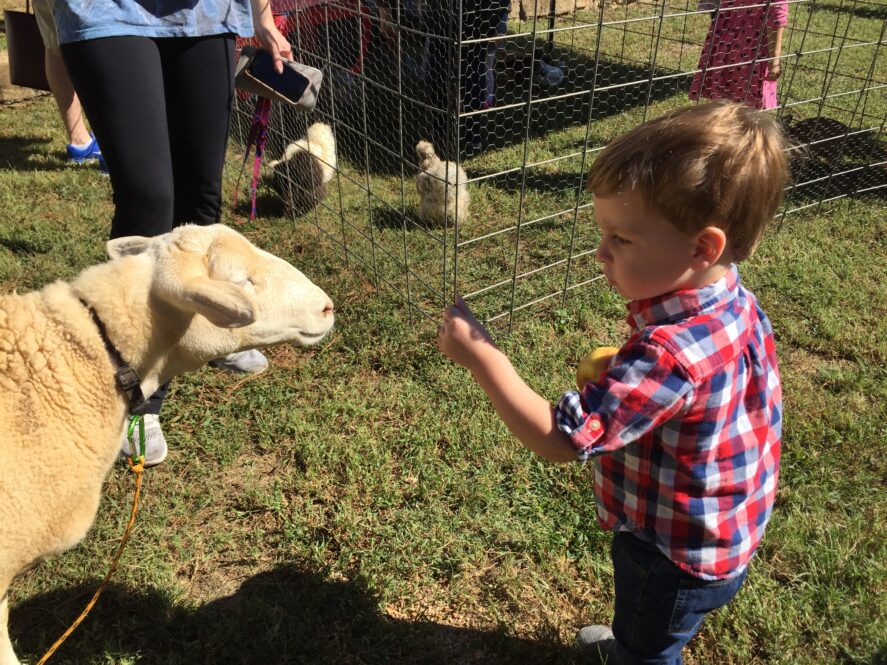 DUNWOODY, GA, October 6, 2020 – The directors of the Dunwoody Preservation Trust (DPT) wish to invite the entire community to celebrate the fall season at Apple Cider Days on November 14 at the Donaldson- Bannister Farm, 12:00 noon-5:00 pm.
The day will include activities for the entire family including a petting zoo, children's pioneer crafts, a self-guided apple scavenger hunt, a display of vintage farm tools and home goods, sponsor booths and an all-things-apple booth. Dunwoody Chick-fil-A and Moondog Growlers will offer food and drink for purchase.
New this year will be Scarecrow Row, a community-wide scarecrow content. Faith-based organizations, schools, civic organizations, athletic groups, neighborhoods, and families are invited to submit a family-friendly decorated scarecrow from October 23 to November 10. Entries will be placed in the meadow with prizes awarded on Apple Cider Days for Best in Show, Scariest and People's Choice awards. To entry details, please contact hopefollmer@gmail .com .
Online advance tickets for Apple Cider Days are $5 per person, with children ages 2 and under free. On-site event-day tickets are $10 per person with children ages 2 and under free.
Entry to the event is limited to allow for social distancing and will be based upon availability. For this reason,  reservations  are  strongly  recommended and may be made for one of three time slots: 12: 00 noon-  1: 30  pm,  1: 45 pm- 3: 15 pm, 3:30 pm- 5:00 pm. Face masks are strongly encouraged and hand sanitizing stations will be spread throughout the property. Reservations are available at  www.appleciderdays.org. For information on sponsorships, email hopefollmer@gmail. com .
The Donaldson-Bannister Farm is  located  at  4831 Chamblee-Dunwoody Road, Dunwoody, GA 30338. Free parking will be available at Independence Square office park located at the corner of Chamblee Dunwoody Road, Peeler Road and Shallowford Road.
About DPT: Founded in 1995, the Dunwoody Preservation Trust (DPT) is a 501(c)(3) organization committed to the preservation of the history,  heritage and quality of life of the Dunwoody community. A volunteer non-profit organization, the DPT owns and manages the circa 1906 Cheek-Spruill House, Dunwoody's signature building at the corner of Mt. Vernon and Chamblee Dunwoody roads. DPT also operates and manages the Donaldson-Bannister Farm, a special events venue and public park owned by the City of Dunwoody. More information is at  https://dunwoodypreservationtrust.org/apple-cider-days/