We know about the latest and greatest events in the Dunwoody and greater Atlanta area and always share the scoop via The Aha! Connection. Aha! readers are encouraged to submit information about upcoming events to be considered for e~blasts and web postings. Please note that although we consider ALL requests, we will publish MOST events that are submitted via this free option on the website. We will include a few of these events (but not all) in an email blast and on the Aha! Calendar of Events.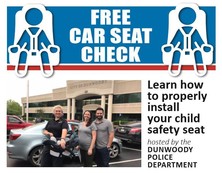 Certified Child Safety Seat Technicians with the Dunwoody Police Department will hold a FREE Car Seat Check on Tuesday, September 17 at Dunwoody United Methodist Church, 1548 Mt. Vernon Road. Stop by anytime between 8 a.m. and noon. No registration required. 
 The  " Estate Sale " is the old garage sale. Which I am having and inviting you all to attend.I have 45 years of things  " I needed " and I now hope you need them. I need to down...
After two Civilian Response to Active Shooter Events (C.R.A.S.E.) Courses filled up quickly, the Dunwoody Police has scheduled two more courses in September. Click here for information and to sign up for the September 4 class. Use this link to...