We know about the latest and greatest events in the Dunwoody and greater Atlanta area and always share the scoop via The Aha! Connection. Aha! readers are encouraged to submit information about upcoming events to be considered for e~blasts and web postings. Please note that although we consider ALL requests, we will publish MOST events that are submitted via this free option on the website. We will include a few of these events (but not all) in an email blast and on the Aha! Calendar of Events.
The Dunwoody Fine Art Association and Dunwoody Nature Center have teamed up to bring you direct access to local artists. Through our Etsy shop, you can purchase beautiful pieces made by local artists. Your support benefits local artists and Dunwoody...
An age-old vendetta between two powerful families erupts into bloodshed. A group of masked Montagues risk further conflict by gatecrashing a Capulet party. A young lovesick Romeo Montague falls instantly in love with Juliet Capulet, who is due to marry...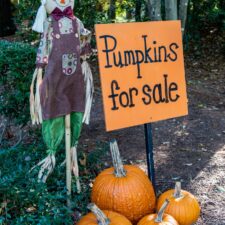 The pumpkin patch at All Saints Catholic Church in Dunwoody is set to open Oct. 3 and will run through the end of the month. Proceeds from the patch are donated to charity. The church is located at 2443 Mt...
The annual "Scarecrows in the Garden" runs through Oct. 31 with more than 100 kooky and creative characters perched throughout the Midtown greenspace. They're all the creative handiwork of area schools, businesses, organizations, and local artists. On Oct. 24, kids are...
Brook Run Skate Park 4770 North Peachtree Road Dunwoody, GA 30338
North Springs United Methodist Church will host its annual pumpkin patch, a fundraiser for its youth ministry. The patch will be open daily Oct. 1-31. The church, located at the corner of Morgan Falls and Roswell roads in Sandy Springs,...
    October is Arts & Culture Month in Dunwoody! The calendar is full of exciting opportunities to celebrate the diverse opportunities for arts and culture in the city. The first week alone, check out opportunities to...

🕷October is here, and we are feeling the Halloween Spirit at AR Workshop Chamblee! Register for your next DIY Workshop this week at arworkshop.com/chamblee