By Lauren Townsend for The Aha! Connection
I'm not sure if there is a better way to celebrate the return of football season, than a pig roast. Some of our friends have planned an annual pig roast for the last 4 years and it is no joke. The men (and boys) camp in the backyard, tending to the smoker and making sure all the meat goes in the smoker at the right time and keeping the temperature right. The women organize and feed all these families, which obviously includes an army of kids ages 6 to 16. Last year, one of these host families moved to Chattanooga, and when I say one of these families, I mean a large portion of our Dunwoody framily and my soul sister, so we decided to make this year a road trip pig roast. 
We rolled up into this cul de sac with at least 8 cars, packed to the gills, one towing a smoker, a Winnebago and if that wasn't enough to scare the neighbors, then we started putting up all the tents. 
I will admit that my role in all this is pretty minimal. I would consider myself more of an "outside pig consultant". I felt the weight of that pressure and decided to have a chat with my friend, Carey, who owns Southern Links BBQ. Armed with his expertise, I was ready to help smoke this whole hog. Our host made sure the hog was fully thawed. Some butchers will thaw it for you, but some won't; so be sure you ask. It takes around four days to thaw properly, so make sure you have the cooler space to do so.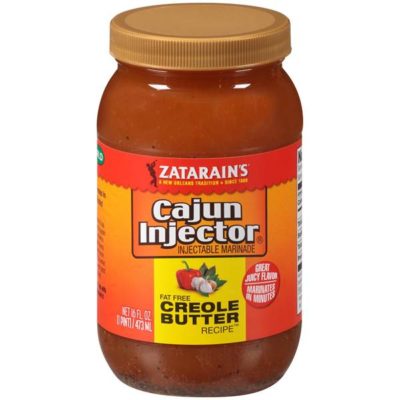 Once we got the pig cleaned and ready, all the kids had interest in prepping him. We used Zatarains creole butter to inject into the pig. The little injector tool they sell with the mix will not do the job. The skin of the pig will be much too thick for it to pierce. Make sure you have something much sturdier to make the holes to inject into, like a very study meat thermometer. You want to make sure that you get the seasoning in the cheeks, shoulders, rib meat and especially butt. Then we patted the outside and inside of the pig dry and rubbed it down with olive oil. We packed on the kosher salt, making sure to season the chest cavity, and giving it a nice salt crust on the outside. I wrapped the ears and snout in foil and let all the seasoning settle for an hour or so. Two hours into the smoking process, I heated up some apple juice with heavy amounts of garlic powder, onion powder and paprika. I then injected that into the meat of the pig butt to help bring up the internal temperature and keep it juicy. 
A smoker was rented from rentbbq.com out of Marietta and two brave men towed that thing up (and down) Signal Mountain. They kept feeding it wood until the temperature rose to 225 degrees. A good estimation is 90 minutes per pound, but having multiple temperature probes and/or an internal read meat thermometer is the best. The guys kept the smoker going all night with the help of movies (and bourbon). We pulled the pig off (and by we, I mean not me) when everything was reading around 185. The pig rested for an hour and a half to let all the juices settle in and the temperature rose another 10 degrees or so. The men also managed to throw on some delicious brisket, a goat leg and some chickens. 
Just as my friend, Dallas was running out the door to pick up supplies, she asked me to make the banana pudding and sent me a text with a recipe. Everyone seemed to like it, so I included that text. The only thing I did differently was drizzling some found caramel sauce on top of the bananas in between layers. 
If mountain air and good friends aren't the cure, I'm not sure what is. Our kids ran around like free range chickens and we just enjoyed the company. I also got drunk enough to show off my high kick routine, so that's how you know I had fun. And now I have enough leftover meat to feed our family for a week plus. First up was pasta with quick roasted tomatoes and smoke chicken. A big thank you to the Lenertz, Trego, Helton, Mied and especially the Mueller families for continually letting us crash your party.