Recent excerpts from our Lunch with Lauren Facebook Group by Lauren Townsend for The Aha! Connection
Follow us on Facebook
Follow us on Instagram
6/18/21:  Here are some ways to partake in Juneteenth this week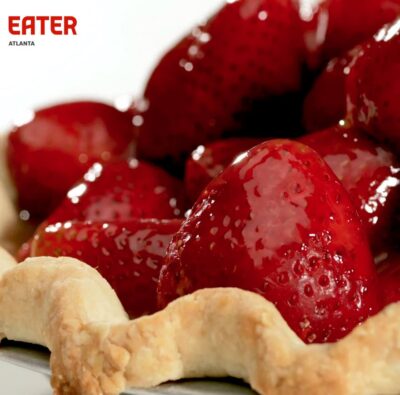 6/15/21: 
Build-your-own poké bowl doesn't require that much cooking, but definitely some prep work. I make sushi rice in the rice cooker; cook meat or heat up leftover meat, and dice tofu.
Thaw shelled edamame, make carrot ribbons with a peeler and drizzle a little honey, slice avocado and cucumbers, and make a green papaya salad, which isn't for everyone.
I purchased sushi grade fish and masago from the
Buford Highway Farmers Market
. It sounds like a lot, but it's really just cutting things up and my kids love making their own meal.
6/16/21:
This week's The Fresh Market is crowd favorite, crab cakes.
Choose between breaded chicken cutlets and savory crab cakes. Add soft brioche hamburger buns, Terrapin Ridge Aioli, corn, and brownies, and you're in for a delicious lunch or dinner.
CHOOSE ONE: Maryland Crab Cakes or Breaded Chicken Cutlets (4 ct)
CHOOSE ONE: Terrapin Ridge Aioli (7.75-9 oz)
CHOOSE ONE: White or Bi-Color Corn (4 ct)
GET ONE: 4 ct Brioche Burger Buns
GET ONE: Chocolate Chip Brownies (4 ct)
6/4/21:
National Cheese Day! What's your favorite cheese?
Husband: maytag blue cheese
11 yo: Frommage d'affinois brie
Me: Parrano, cave-aged gruyere, Parmigiano, Campo de montaban, robiola, Mt. Tam, truffle tremor, pecorino peppato, buffala mozzarella, sweet grass fresh chevre, any aged cheddar, queso, any.
What are your favorite cheese(s)?
5/23/21:
If you love someone, make them these potatoes. They are basically fancier scalloped potatoes or adapted from Thomas Keller's pave potatoes. Disclaimer: It is best to make these the day before you plan on serving.
You'll need: butter, salt, 1 cup of heavy cream, potatoes.
You can make these in a deep baking dish or loaf pan. Line the pan with parchment and enough hanging over to fold on top, then brush with butter.
Preheat to 350°. Peel russet potatoes (usually 3 to 5 lbs) then slice potatoes on a mandolin. Place the slices in heavy cream to coat and keep from oxidizing. Put down 2 layers of sliced potatoes and brush with melted butter, salt and pepper. 2 more layers, more butter and so on until you are done with it or at the top. Fold the parchment paper over the top and cover tightly with foil. Bake for just under 2 hours. If a knife slices through easily, you're good. Once you pull it out, place a similar pan on top to compress it down.
Once cooled to room temperature, I usually toss in the fridge until ready to serve. Then heat oil on medium-high and place cut pieces in the pan to caramelize. Then you flip to brown the other side and you're done.
I know it sounds like a lot, but it really isn't hard, just more time consuming than throwing a potato in the oven.
5/19/21:
I always make several meals out of one roast chicken. This week I made a mix of shredded chicken, half a pack of cream cheese, cooked spinach, 1/2 a cup of chopped roasted walnuts, salt, and pepper. I rolled half a pound of thawed puff pastry and cut 12 rectangles. Brush half with eggwash (whisked egg and water) and spoon chicken mix in the middle. Then cover with a clean dough rectangle and press together with a fork. Brush the top with egg wash and into the oven.
Preheat oven to 425 degrees and bake 20ish minutes until golden.
5/19/21:
I went to

Tum Pok Pok

last week and I am forever changed. Still so many thing I need to eat there.
  Ready my review
here
.
5/16/21: 
If I were to make a list of must-have items from

Buford Highway Farmers Market

, this carton of fresh, peeled garlic is at the top. Makes life so much easier.