by Lauren Townsend for The Aha! Connection
I am not going to lie, I'm tired of cooking. I used to think packing lunches was a pain, but nothing compared to 3 meals a day plus snacks. I've put together a list of lunch (or snack) ideas for those of us putting on a caregiver/teacher/lunch lady/custodian hat every day.
Tortilla Roll-Ups or pinwheels – My kids can make these themselves. Just lunch meat and cheese in a tortilla and when they were smaller, I would slice them into pinwheels.
Fish nuggets from Trader Joe's – We are big fans of the frozen battered fish nuggets from Trader Joe's. They are pollock and you just pop them in the oven or maybe an air fryer? Toss them in a tortilla with some coleslaw…instant fish tacos
Pizza chips – not healthy, but functional. Fill mini cupcake tin with shredded mozzarella, dried basil, salt and garlic powder and the super mini pepperonis. Bake at 350 until the edges are caramelized.
Baked potato – Next time you make baked potatoes for dinner, make extra to serve for lunch. Kids can reheat in the microwave and top with sour cream, green onions, bacon, etc.
Wonton soup – I keep chicken stock in my pantry at all times. For a really easy, quick meal, I cook frozen wontons or tortelli in the stock with some veggies.
Pigs in a blanket – So many ways to do pigs in a blanket and a great make ahead item that you can heat and serve. Whether you wrap a hot dog or little smoky in croissant dough or poke a cut up hot dog in some jiffy cornbread mix, most kids will be happy.
Meatloaf muffins – just go to the recipe. It's meatloaf in mini form. I also make this suggestion to mom friends who stress about their husbands coming home late and needing dinner. These keep really well in the fridge and are really easy to heat.
Hummus wrap – My youngest loves hummus on a pita or tortilla with cucumbers. I love the homemade hummus from Alon's or the roasted garlic hummus from Target.
Taco salad (made with chips) – Again, if you are making ground beef for dinner, make extra for lunch. This is another great kid meal with tortilla chips, ground beef and toppings you are control and kids can pick.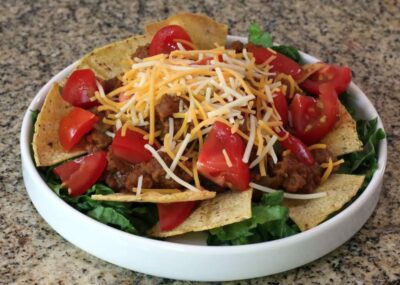 Mini Charcuterie plate – This is such a favorite at my house. Cut up deli meat, salamis, cheese, nuts, fruits, and crackers.
Pasta salad – This is a great opportunity to use up random veggies. A little dressing and Parmesan or mozzarella and you have a salad your kids can serve themselves.
Spinach and Ham Calzone – grab some pizza dough. It can be fresh or frozen or from a tube. Roll out little rounds and fill with spinach, mozzarella/provolone, and ham.
Cold Soba noodle salad – Make soba noodles ahead and toss with a little oil to keep it from turning into a giant sticky ball of noodles. I add veggies, thawed edamame, and peanut soy dressing. My kids like to eat with roasted seaweed.
Peanut butter and banana wrap – Peanut butter or almond/pecan/Nutella on a tortilla and sliced bananas.
And my all-time favorite lunch, tomato soup and grilled cheese. Don't forget to mayo the outside before toasting.
Good luck and may the odds be ever in your favor.