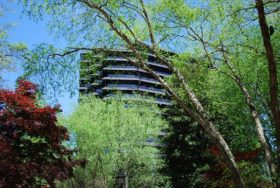 By Audra Anders for The Aha! Connection
Back in February, the AJC published an article about three new restaurant concepts coming to the newly re-modeled Crowne Plaza Atlanta Perimeter @ Ravinia Hotel.   At the time, I had no idea I would receive the opportunity to take Peggy and Lauren for a complimentary lunch to check out the beautiful new Parkwoods Restaurant.  
The three of us were lucky enough to make the quick trek from the suburbia area of D'woody over to the metropolitan area for lunch today.    I see and hear comments all the time about people wanting new, cool restaurants in Dunwoody, so hopefully you'll read this article and go check it out for yourself.
Most of us living in the Dunwoody 'burbs don't have any reason to step foot in our Perimeter area hotels so you may not have ever been to the Crowne Plaza.   Let me just say that it is really quite lovely.  The restaurant is nestled against the parks and trails backdrop and basically 80% of the walls and ceiling are windows.   It was a beautiful atmosphere on this lovely spring day.
Apparently a beer garden "Backyard at Parkwoods" is coming soon and Lightwell is open already.   Check out our photographs and the menu then head on over there to check it out for yourself.
We shared the country ham board.  Lauren ordered the flat iron steak salad and both Peggy and I couldn't resist trying the seared red snapper.   We enjoyed our meal and LOVED the atmosphere.
This is your chance to try something new so very close to home!   Hint:  We all agree that you should valet park rather than tackling the parking deck.   The hotel entrance is off Ashford-Dunwoody Road at the intersection with Hammond Drive.
Parkwoods Restaurant
4355 Ashford Dunwoody Rd
Atlanta, GA 30346
Facebook
Instagram