by Audra H. Anders for The Aha! Connection
I have been so very fortunate to have been given several opportunities lately to visit local businesses and participate in fun programs that are still "social-distance friendly".  Last week was no exception.  This time, Peggy and I decided to take my hubby with us!  We laughed, learned, laughed more, chopped, laughed, sauteed, sneaked bites of Manchego cheese, laughed, cooked, ate and laughed even more!
Most everyone knows I love to explore all types of food, especially in the Chamblee-Doraville area.  However, I had never heard of Team Building with Taste until Chef Paul McKeon invited us to attend a Tapas Class.  It is only 4.5 miles from my Dunwoody home and, best of all, we did not even have to get on the interstate!  Team Building with Taste is located in the shopping center between the Hennessy Lexus dealership and BrandsMart USA just a few doors down from the Super H Mart and the Kura Revolving Sushi Bar.  Surely you know where at least one of these places is in order to understand just how close it is to Dunwoody!
Team Building with Taste's kitchen was designed from scratch for culinary team building.  Their original and most popular pre-pandemic program was designed to "optimize familiarity, trust and collaboration among participants. This 3-hour program pits teams from within the same organization against one another as they prepare a full course meal. Curve balls are thrown in along the way to inspire creativity and problem solving. With guidance from our chefs, participants must work together—or risk losing in front of the entire department or company."
Speaking of curve balls, the Covid-19 pandemic struck shortly after their opening and everyone, including corporate teams, were isolated at home and forced to Zoom to even get basic work done….much less participate in team building…in a kitchen.  Chef McKeon and his team improvised and developed virtual team building classes and most recently have been offering shorter programs designed more like "cooking classes" for people to participate with family, neighborhood groups, book clubs, birthday parties and girls' nights out.  The "Tapas Party and Cooking Class" we attended was one of these shorter sessions and lasted about an hour and a half. TBWT's Executive Chef, Susan Fornek, was in charge of the session and ran the show.   She was fun, humorous and very informative…simply perfect for this environment.
In addition to Peggy, Kirk, and me, the class roster consisted of two girlfriends and a group of 6 employees from Rally's/Checkers.  The corporate folks and the girlfriends were split up but Aha! remained together and became the "Meatball Maniacs" for the evening.  Guess what we had to make?    Albondigas….Spanish Meatballs!  Just typing the word "albondigas" makes me crave one right now!  It's my new favorite Spanish word 🙂
Going in, Peggy and I thought every person or team would make every dish but instead the second team made Patatas Bravas with Smoked Paprika Aioli and the third created a Tortilla Española (Spanish Egg and Potato Omelet).  Dividing it up in this manner cuts down on the time.  Each team was given a recipe and escorted to a stainless-steel table covered with all the necessary ingredients, utensils, pots, pans etc.  Don't fret….you get to taste every dish and take home every recipe, but don't have to cook them all!
Here is where I should point out that everyone was wearing a mask except briefly during some quick photo snaps.   Everyone washed their hands in full view of each other prior to entering their food prep area and the two chefs rotating around the room had their masks on the entire time plus both kept cleaning up after everyone and wiping utensils and countertops down WHILE we were cooking.  Most everyone also opted to wear gloves (including me).  We were also introduced to the spice rack, pantry, and refrigerator with extra ingredients and were strongly encouraged to modify our recipes as we saw fit.  We added extra garlic while mixing our raw albondigas and added tons of extra Manchego cheese when plating our dish.  If you aren't much of a cook rest assured, there was PLENTY of assistance from the chefs as needed.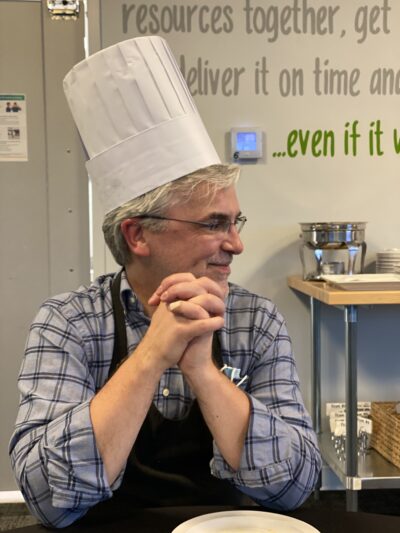 We had a fun countdown clock like an Iron Chef Showdown and once everything was prepped, cooked and plated, the professional chefs judged our dishes in 3 categories:  
TASTE of dish
Appearance of the "PLATING" of the dish
The team leader's marketing speech about the dish
I am proud to report our team won "best plating" and Peggy and I voted my hubby as our team MVP.  He was willing to do anything we asked from chopping garlic to rolling raw meatballs, to tasting the tomato sauce, to plating with parsley!  He participated to the fullest including wearing the chef hat he won for being selected MVP!
If you like to cook, eat, or try new recipes, you should schedule your office for a team building exercise or your family or other fun group for a fun challenge at Team Building with Taste!
Oh, and they still have some seats left for Wednesday, April 7th at 6pm for the "Taste of Italy" cooking class. The menu features:
Pasta with vodka sauce
Chicken ala Milanesa
Tomato Basil Bruschetta
To sweeten the deal, use promo code "20now." You'll save $20 off the regular price of $69 per person.
You can register directly here. Or, see all of the classes for April and May on the Atlanta Cooking class page.
Team Building with Taste
Atlanta Cooking Classes
6035 Peachtree Road
Atlanta, GA 30360
678-915-2815