by Danielle Garrett of PlanIt Itineraries for The Aha! Connection
As the travel industry continues to be devastated by the pandemic, we cannot allow the virus to squash our dreams of future travel.  The planning of travel is a fun part of the process and research shows that just planning a vacation boosts your mental health.  With our lives turning into Groundhog Day, planning and dreaming about our future travels can lift our spirits!  I encourage everyone to keep a list of places you dream to visit once Covid is behind us.
Today we are focusing on a beautiful spot in California that is a little off the beaten path.  For any of you that have traveled during Covid, you have probably noticed like me how nice it is having less tourists around.  Before Covid, over tourism was a real issue.  Doing our part to sprinkle in places that are not over-run by visitors is a great idea for future travel.
Many of you have heard of Carmel, CA.  A beautiful spot about 2 hours south of San Francisco on the Monterey Peninsula.  Carmel is a beautiful, cobble stoned street town with great restaurants and shopping, however, Carmel can also get very busy and more expensive.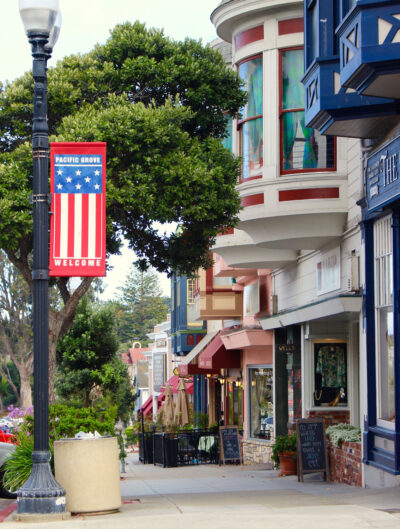 PACIFIC GROVE is a great alternative and a much lesser known destination.  PG, as the locals refer to it, is only a 10-15 min drive from Carmel.  It is less tourist oriented and less commercial than Monterey.  The location allows you to easily visit Carmel, Monterey and even Big Sur (a 45 min drive).  PG is also a charming, historic town but more relaxed and less upscale than Carmel.  PG offers accommodations at a lower price point and offers many more options with stunning ocean views.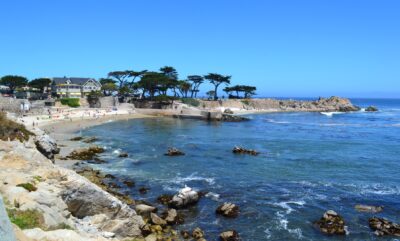 One of the perks of PG is the location across from Lovers Point Park and beach.  This is a beautiful spot with a pathway along the ocean for walking and biking.  You can see sea lions and sea otters in this area, as well as whales from the shoreline.
The famous 17-mile drive (a scenic coastline drive), winds through Pacific Grove and Pebble Beach offering many scenic attractions.  Most of the drive hugs the coastline and takes about 3-4 hours to see the entire drive with stops. 
A great time to visit PG is early April through May when the magenta ice plant is blooming (known as the "purple carpet").  These purple flowers spread to the shoreline and typically open mid-day until the evening.  Pick a sunny day, as they will remain closed if too cold.  The best place to see the Purple Carpet is to start at Lovers Point in Pacific Grove and take the scenic drive along Ocean View Blvd (or the Monterey Bay Coastal Recreation Trail) towards Pebble Beach. The best stretches of the bloom can be found between Lovers Point and Asilomar State Beach.
TIP: The drive along Hwy 1 between San Francisco and the Monterey Peninsula is considered one of the most beautiful drives in the U.S. (some say in the world).  Yes, the drive is roughly 2 hours, but give yourself much more time for scenic stops.  You will want to take plenty of pictures! 
Please remember to travel responsibly, wear your mask and do not travel unnecessarily if you are elderly or immune-compromised!
Join the PlanIt Itineraries Facebook Group and check out the website where you can sign up for our newsletter for more travel tips and tricks!