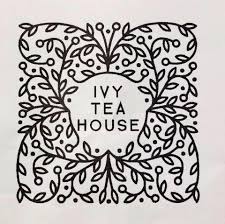 by Lauren Townsend for The Aha! Connection
Ladies who lunch rejoice and clutch those pearls because I have found the best little tea house! Tucked on a side street in downtown Norcross, Ivy Tea House has just opened for lunch and afternoon tea Wednesday thru Friday and for high tea on Saturdays. Mouth watering savory offerings of sandwiches, salads and quiche are prepared by Maureen Adams of Bleu House while delicately delicious pastry are created by Nicole Outler of Gingerspice Bakery.
There were a number a la carte items that I was ready to try, but my friend Amanda and I HAD to try the afternoon tea selection. After we decided on a pot of southern peach tea, a picture perfect, three-tiered stand full of deliciousness was delivered to our table.
The ivy tea is $26 per person and comes with tea, cucumber sandwiches with fresh dill and pesto cream cheese on homemade focaccia, pimiento cheese in phyllo cups, egg salad on pumpernickel, choice of daily scone with jam, lemon curd and cream and cream puffs, fresh fruit and lemon squares. Since neither of us cares for egg salad, we asked to substitute more cucumber sandwiches. I don't know if you know Amanda Hene, but I would consider her an authority on cucumber sandwiches and she agreed that they were amazing. I've also come to the conclusion that I only want to eat my pimiento cheese in phyllo cups moving forward. We opted for the pink peppercorn scones over dark chocolate. Lemme tell you, I love a good scone and this was perfect. I traded my last cucumber sandwich for Amanda's scone and we were both happy. Luckily we had a similar arrangement for dessert: I preferred the cream puffs with light and airy choux dough and sweet cream and she loves a good lemon bar, so after we agreed that both were good, we divided accordingly. We left full and happy to have had the chance to catch up. 
Ivy Tea House also offers a children's tea with hot cocoa, finger sandwiches and dessert which I'm sure is adorable. Reservations are only required for high tea on Saturdays. The menu options sound delicious and even off a gluten and refined sugar free menu options. The space would be a great place to host a gathering and it looks like they also so specialty cakes. 
So the moral of the story is gather some friends and head over to Norcross, there is a bit of road construction, so put it in Waze, and finish your afternoon with some shopping at the local boutiques. 
Ivy Tea House
23 Holcomb Bridge Road
Norcross, GA 30071
470-424-4715
Wednesday – Friday, 11 to 4
Saturday, high tea by reservation
Ivyteahouse.com, @ivy.teahouse