Coldwell Banker Donates $75,000 to Backpack Buddies of Metro Atlanta
Realty firm's contribution will provide over 100,000 meals to food-insecure students in Metro Atlanta
Dunwoody, Georgia (May 19, 2023) – Backpack Buddies of Metro Atlanta (BPBMA) launched in February 2022 by serving approximately 800 food-insecure children with weekend meals across 27 area schools. With the school year closing, the program now serves roughly 1,600 children each weekend across 41 schools, effectively doubling its reach. The increase is the result of an efficient service model and tremendous support from the local community.
On the heels of the first anniversary of BPBMA the Coldwell Banker Cares Foundation (CBCF) presented a donation of $75,000 to help the service expand in year two. This is the largest single BPBMA donation to date.
The check presentation took place at 2:00 p.m. on Thursday, May 18th at BPBMA's headquarters at 2458 Jett Ferry Road, Suite 350, Dunwoody, GA 30338. (Photos attached, credit: Lauren Unell)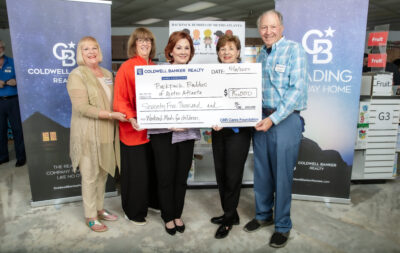 "We are incredibly grateful for the support of the Coldwell Banker Cares Foundation," shared BPBMA Founder and Chair Ron Robbins. "This generous donation is a proof point of our efficient model to feed children in need, and will serve our continued growth. In my wildest dreams, I would never have imagined that our Board and Staff could have accomplished so much in such a short period of time.In addition, our Community Buddies, participating schools, and volunteers have made BPBMA a new standard in feeding hungry children on weekends!"
CBCF is not only a financial supporter of Backpack Buddies. Two of Coldwell Banker's realty offices serve as Community Buddies in BPBMA's coordinated food distribution system. Coldwell Banker's Alpharetta and Sandy Springs offices, like the other 27 Community Buddies in BPPMA's network, obtain food free of charge from BPBMA, pack the food in weekend meal bags for the children, and deliver the bags weekly to the school(s) they've adopted.
"As real estate professionals who dedicate their lives to guiding people in their homeownership dreams, we understand the significance of 'home' throughout the highs and lows of life. We are very grateful to Debbie Sonenshine for casting a light on this wonderful organization that assists local families by providing weekend meals to children and to everyone in our company who joined us in supporting Backpack Buddies this year. We hope it brings awareness to the needs of families who are going through difficult situations in the Atlanta region and beyond," stated Laura Rittenberg, president of Coldwell Banker Realty in Atlanta.
BPBMA began as a volunteer effort in 2017, building on a successful model used in other communities. The organization became a 501(c)(3) nonprofit in early 2022 and set-up a central distribution facility in the Williamsburg at Dunwoody shopping center. As the organization continues to realize efficiencies from its food procurement and distribution model, it aims to triple its service over the next 2-3 school years while moving its operations this summer to a larger facility in its same Dunwoody shopping center.
About Backpack Buddies of Metro Atlanta
Backpack Buddies of Metro Atlanta provides weekend meals to food-insecure children in metro Atlanta to enhance their mental and physical health as well as their ability to learn. Operating out of a storage and distribution facility at 2458 Jett Ferry Road, Suite 350, Dunwoody, GA 30338, Backpack Buddies of Metro Atlanta provides food at no cost to 29 community, civic, and religious organizations, called Community Buddies, that deliver the food to 41 Metro Atlanta schools to support food-insecure students. For more information, please visit www.backpackbuddiesatl.org.
About Coldwell Banker Realty in Atlanta
Coldwell Banker Realty in Atlanta is a leading residential real estate brokerage company with 11 offices and approximately 1,350 affiliated sales associates. Coldwell Banker Realty is owned by a subsidiary of Anywhere Real Estate Inc. (NYSE:HOUS), the largest full-service residential real estate services company in the United States. For more information, visit ColdwellBankerHomes.com.