by Audra H. Anders for The Aha! Connection
Do y'all remember the charming boutique Cutie Pies that used to be in Dunwoody Village?  They carried the most adorable children's clothing.  Who could forget when they offered Easter Portraits with baby ducklings?!  Sadly Cutie Pies closed in the summer of 2014 so the owners could focus on their family.
I worked with Cutie Pies way back then to spread the word about their boutique but never met the owners.  I remembered their last name was Arias.  So, when I recently received an email from Kerry Arias, Realtor at Berkshire Hathaway HomeServices Georgia Properties, I figured it had to be the same Kerry and couldn't wait to stop by to meet her!
I was right…Kerry Arias, once Cutie Pies Boutique Owner extraordinaire, has basically moved her office next door and jumped from retail to real estate!  I sat down with her last week and really enjoyed getting to know her and learning about her professional career.   She began her career with The Home Depot when they had a mere 43 stores but retired after 13 years in 1998!   From the beginning of her career, she has always known the importance and relevance of excellent customer service.  In all her various jobs throughout her career thus far, she says the thread weaving them all together is her desire to provide value to others.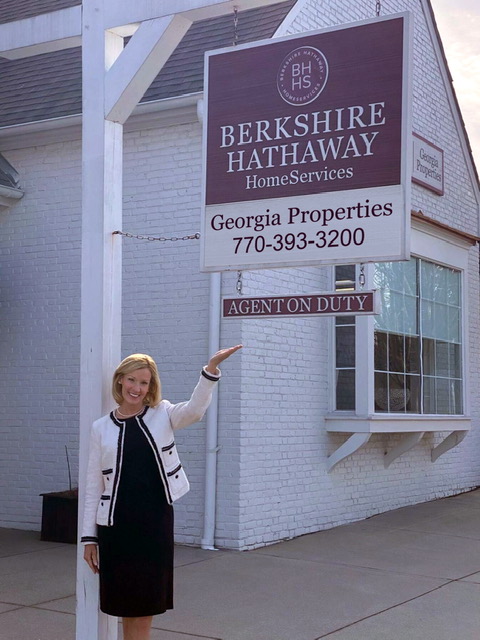 She confessed to me that, for her, Cutie Pies was not really about the amazing clothes but rather about her desire to provide value and exceptional service to her customers.  She reminded me about bringing Tatiana in to talk about her book Fred the Fox Shouts No! … having photos with Santa for families, and of course the adorable ducklings at Easter!   Kerry told me that when shopping at the merchandise mart for inventory she always had her regular customers in mind when choosing what to purchase for the boutique.  After closing the boutique, she took time to focus on her family and even briefly worked as the Director of Parish Life at St. Jude the Apostle Catholic Church.  All the while she focused on providing value to whomever she was serving during each phase of her life.
Interestingly, Kerry passed her real estate exam years ago right about the same time that she was called to Colorado to adopt her miracle little girl, Christina Maria.  Soon thereafter a miracle pregnancy for Kerry and Marcos brought their son Antonio into the world.  Her babies are now in 9th and 11th grade at Blessed Trinity.   Kerry decided now was the time to dust off the real estate exam books and start over with her pre-motherhood real estate career goal!
We laughed about the fact that Cutie Pies was practically next door to her current Berkshire Hathaway HomeServices Georgia Properties office in Dunwoody.  In fact, while working at Cutie Pies, Kerry remembers meeting DeAnn Golden, who was serving as the managing broker at the time and now senior vice president, regional manager and reached out to them first about her desire for a new career in residential real estate.  Kerry started her real estate career DURING the pandemic but is enjoying it tremendously.  She told me about a recent experience with the children of a 90-year young mom living in California.  All the "kids" live in metro Atlanta and interviewed Kerry to see if she could be the one to find the perfect home for their independent mom to get her across the country and near the family!   Kerry immediately won over all the siblings and her client is now happily residing in an amazing ranch style home equidistant from her children and grandchildren.  This opportunity put Kerry in her ideal element of having many "customers" to serve and finding value for all of them!
During her short time in the real estate world, Kerry has loved the variety of clients and their real estate needs.  I had to write it down when she said: "Everyone is a joy in their own way…the variety is fun!"  She's just so kind and sincere and really seems to thrive on serving her clients.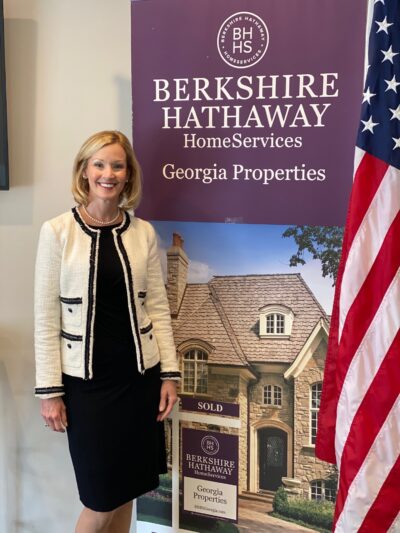 When I asked her "Why Berkshire Hathaway HomeServices Georgia Properties?" she was quick to tell me "There was never a question".   Kerry told me "the brand equals Service and integrity".   She loves the support she receives from the company.   She mentioned they provide one-stop shopping convenience within the company offering all the home related services needed when purchasing or selling real estate.  With a middle name like "HomeServices" it's no surprise that consumers have direct access to  a myriad of other company owned partners like Prosperity Home Mortgage and HomeServices Insurance, both are also owned by the same parent company and add great value to the process.  Additionally, through their affiliations with other real estate related service provides, they can offer convenient closing and title services and even provide coverage of a home warranty during the listing term.  This provides the sellers with piece of mind should one of the components of the home malfunction during the listing period minimizing unexpected expenses   Kerry says all these "in house perks" help her work better and faster to continue providing value to her clients.  Plus, Kerry says Sally Moore, her managing broker is incredible and so supportive in helping everyone succeed.
When I asked Kerry to sum up for me what she would want the Aha! subscribers to know about her she said very simply:  "For me, it is all about serving people and providing value to whatever their needs are."
Kerry Arias, Berkshire Hathaway Home Services, Georgia
kerry.arias@bhhsgeorgia.com
770•605•7545 (cell)
770•393•3200 (office)
Facebook
Linkedin