By Peggy Smith for The Aha! Connection
I read somewhere that the Great Smoky Mountains National Park is the most-visited park in the nation. With over 800 miles of trails, mountain vistas, forests, waterfalls, and scenic views, there's no doubt why.  Between the park and its surrounding tourist-friendly towns of Gatlinburg, Pigeon Forge and Sevierville, there's truly something for everyone here.  This was our second family vacation to the area and this time we spent four nights in Pigeon Forge over the long fall break weekend.  The drive to our cabin from Dunwoody was 4 hours exactly.  We opted for the highways up to Knoxville though you can come in through the mountains which is a much prettier drive.  Don't take that way if anyone in your family is prone to motion sickness though.  Also, if you take the highways you can make the most necessary family shopping trip stop at Buc-ees (don't miss reading Christina's Worth the Drive review here). 
Last time we visited the area was several years ago and we stayed in Gatlinburg which I liken to the Boardwalk of Ocean City, MD (if you know, you know) being transplanted to the mountains.  You will sit in your car for hours inching down the strip … tourists flock in and out of pancake restaurants, souvenir shops, miniature golf, arcades, "museums", rides, and pretty much anything that requires money.  It's a kids dreamland.  Don't stay there. 
This trip, with my kids being ages 9 and 12, we opted to rent a pet-friendly cabin in Pigeon Forge.  It's located pretty much between Gatlinburg (where the entrance to the National Park is) and Sevierville and is also just a couple miles to Dollywood.  With three dogs (yes, three) it's so much easier to find a place where we can take them and it's also great to have a kitchen, washer dryer, etc. with kids.  The 2-bedroom cabin we rented from Outrageous Cabins was perfect.  Their cabins are located within the Starr Crest Resort, an easy paved neighborhood of gorgeous log cabins with amazing views.  Our cabin came with a fully equipped kitchen (we stopped to load up on groceries on our way into town), washer/dryer, hot tub, two decks overlooking amazing views of Mount LeConte, air hockey and pool tables, and enough bear décor to make up for not seeing any real bears. 
We spent our first full day at Dollywood Theme Park.  If you've never been before, you are in for a treat.  There are fun rides for all ages, fantastic stage shows, surprisingly great shopping, tasty food and an all around friendly, low key, country vibe.  It's probably the most friendly theme park I've ever been to.  There's even Doggywood right at the front entrance.  Seriously!  For $25/day, you can leave your dog in a comfortable, supervised, air-conditioned kennel with plenty of water.  You can come back anytime to check in or walk/feed your dog.  While we left our older dogs at our rental cabin for the day, we have a puppy and it was super helpful to be able to leave her there and not worry about a destroyed rental cabin.  Definitely plan to buy your park tickets and parking online ahead of time (and save a few dollars while you are at it).  Try to arrive at opening time or slightly earlier.  You pick a date for your visit but your tickets are good for within a 5 day range so you can always change your plan.  We visited on a Friday with overcast skies and really lucked out with lines and crowds likely due to the fact it was a weekday with a threat of rain.
Download the app so you can have easy access to a map and can also keep an eye on ride lines.  If you have young children, make sure you stop at the Measuring station so you will know which attractions you can do.  Clear winners of the day for my kids were the Dizzy Disk, Dragonflier and, quite possibly the most fun roller coaster I've ever been on, the massive wooden Thunderhead with a 100-foot drop and a top speed of 55mph.  It was absolutely awesome! 
After a full morning of rides, we decided to take a break and go to Aunt Granny's Kitchen and sit down inside for lunch.  I found out after the fact that it was named by USA Today as one of the top-10 best theme park restaurants in the country.  Don't miss it.  For basically the same price as piecing together what everyone wants to eat and drink at the various park kiosks, you get a substantial, all-you-can-eat country buffet.  Great for kids and adults. 
After logging nearly 20,000 steps around Dollywood, everyone slept soundly and agreed to visit the PARK itself.  There are so many ways to explore the Smoky Mountains whether by foot, car, bike, or raft and the jump off point is at the Gatlinburg entrance into the park (take the Bypass to get there – don't drive through Gatlinburg if you want to get there before sunset).   I definitely suggest heading up to Clingman's Dome first before the crowds.  At 6,643 feet, Clingmans Dome is the highest point in the Great Smoky Mountains National Park.  It's seven miles to the end of Clingmans Dome Road and there are scenic pullouts with endless views along the way.  The road ends in a large and often congested parking area from which a half-mile trail leads to the summit.  The trail is paved but very steep and will elicit many complaints from your children.  Once the trail levels out, you'll reach the observation tower which normally offers gorgeous views of the Smokies but was covered in fog on our visit.  Fortunately, the fog was clearing by the time we got back to Newfound Gap Road, a very worthwhile scenic stretch of roadway. 
If you can convince anyone in your family to do another easy hike, one of your best options is the Laurel Falls Trail, a paved 2.6 mile round-trip hike that ends at the spectacular 80-foot high Laurel Falls and is good for all skill levels.
Likely by this point, everyone wants to go eat and watch football but on another trip, save time for the Cades Cove Loop which is an 11-mile picturesque drive with a backdrop of the mountain peaks and rolling green valleys.  When traveling the scenic loop road, plan to get out and visit the restored buildings that include three churches, log homes, barns, and a working mill.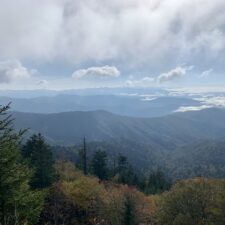 After a lazy Sunday morning (there is no lack of pancake houses in the area – don't miss Flapjack's Pancake Cabin or Mel's Diner for your hearty breakfast fix), we decided to go check out one of the mountain coasters we kept passing.  I found a Groupon for Buy one Ride/Get one Free for the Smoky Mountain Alpine Coaster which claims to be the LONGEST downhill ride in the United States with over 1-mile of track.  This was the first time we've done this and won't be the last.  Super fun! 
We barely scratched the surface of this area during our visit as there is clearly SO much to do.  While we did a lot during the days, we also chose to have downtime so we could relax a bit and enjoy the cabin we rented.  We cooked dinners in our cabin, played games, enjoyed the hot tub, gorgeous views and a few of the many sports games on this past weekend!