by Audra Anders for The Aha! Connection
Last week I had the pleasure of stopping by the Woodhouse Day Spa for a tour with Khyshan Perlman (Franchise Owner) and Ashley Croft (General Manager).  A wonderful whiff of magical spa scents welcomed me when I walked in the door.  The combination of all the varieties of specialty products create an aroma that you just want to bask in…for hours!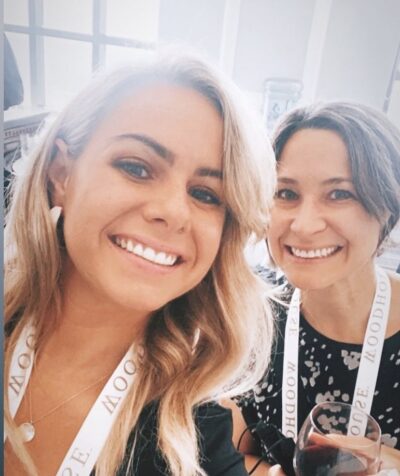 Let me tell you a little about Khyshan and Ashley….
Ashley Croft is the General Manager.  She's been working in the Spa world since high school and was thrilled to move up from Massage Envy to Woodhouse…definitely a next level spa.   She's getting married in 2023 and it is obvious she loves her job when she talks about all the services, specials and even her love of "mothering" all the employees.  She and Khyshan say their goal is to treat employees like family and to make clients feel they are being welcomed into their home.
Khyshan is originally from upstate New York.  She and her husband live in Dunwoody in the Wyntercreek neighborhood and have two boys (6th and 4th grades) who attend St. Jude the Apostle Catholic School.  She and her husband moved from Austin, Texas about a year before they opened the 50th Woodhouse Day Spa location at Perimeter Mall.  There are now 70+ locations in the US.  Khyshan and her husband had always known they wanted to own a business.  He has a friend who owns a Woodhouse franchise in NY, she is an occupational therapist so one thing led to another….and after meeting the founder at the original Texas location they were sold on the idea.
Here's my thing…I have experienced a handful of massages and facials, more than my fair share of manicures and pedicures, and most of my makeup and skincare products can be purchased at Walgreens.  I do splurge every now and then, especially now that I'm over 50 and I pay way more attention to wrinkles and anti-aging.  But…I don't regularly go to spas.  Once I walked in Woodhouse, I wanted to stay there.  Seriously.
Before becoming a mom, I went to Spa Sydell a few times.  So I asked Khyshan and Ashley what sets Woodhouse apart from a Spa Sydell.  I learned Spa Sydell is more like a med spa these days.  And after my tour of their facility, I realized  Woodhouse is better than Spa Sydell ever was.
What sets Woodhouse apart?  Their holistic approach…focused on mind…body…spirit. 
Their new menu of services is all about taking care of your current mood.  Post Covid Woodhouse is focused on how their business makes people "feel".  They believe true renewal leads to a more joyful life.  Their mission statement is all about leading a more joyful life.  Woodhouse Spa curates each luxurious experience to deliver on how you want to feel now, and long after you leave.  Choose your mood and let your transformation begin:
calm
resilient
connected (obviously me, The Aha! Connection founder,  chose this essential oil for my lava bead bracelet!)
confident
energized
balanced
You choose which one of the above or which combination is best for you that day and they will tell you which services accommodate your mood request.  Their goal is for you to take whatever feeling you choose, home with you.  Here's their key to "mood care"…
I asked them about how they've been able to retain employees in this current job market.   Ashley says they just have to keep their work culture thriving.  She often feels like she's a mom to all the employees and her goal is to keep them happy and wanting to come back to work.  
Woodhouse clients are typically 80% women, 20% men.  Some are Dunwoody resident regulars, others are visitors, nearby hotel guests, and clients from out of town who have sought out a Woodhouse Spa because they know the brand is the best!
I was treated to a gift of lava beads that were placed in a "mood soak".  I chose "connected"  from the "mood menu" so Ashley placed my lava bead bracelet in the matching essential oil.  I wore it for the rest of the day and loved feeling "connected" every time I smelled the wonderful aroma.  It was awesome.  I love mine and need to go back and get an essential oil for a few more moods.  You can purchase your own lava bead bracelet separately or one also comes with some of the services.
Things you need to know about:
Gift cards are awesome and can be used at any Woodhouse location.
If you buy a $350 gift card you get a free cozy shawl that was the hit of the season last year.
They are about to announce holiday packages…."all is calm" is the one that sounds awesome to me.  More on those later.
They have a Black Friday special: Buy 6 services for the price of 5 that can be used throughout the year.
They partner with Ruscello (The Nordstrom Cafe) and will order and deliver food for you between treatments.  Side note:  My hubby and I believe Ruscello is Dunwoody's best kept secret restaurant.
Sure, Woodhouse is in the mall, but it doesn't even feel like you are in the mall.  There's an exterior entrance between Dillards and Von Maur (more specifically next to Sephora and Brooks Brothers).  They have reserved parking right outside their front door.  
Their retail area is full of surprises.  From Hypervolt Massage Guns to advanced heat and vibration wraps to lotions, shower sprays, bath bombs, eye masks, slippers, robes, teen clean products and so much more.  (Think stocking stuffers and teacher gifts!).  Corporate assigns the vendors who supply the retail items and all are vetted to be clean, natural, organic, animal friendly, eco-friendly and top quality.  They have gifts ranging from $5 to $300 right in their front desk retail area.  They love shoppers to stop by during the holidays because it is so much fun making personalized gift baskets.
I'm afraid I'm getting too long winded so here are a few things to wrap up what I want you to know about the Fabulous Woodhouse Day Spa.
Join their holiday list email by emailing: info@dunwoody.woodhousespas.com
Follow them on social media:
Email them here to sign up to receive "last minute spa specials".  You'll then be the first to find out if they have last minute opportunities to come in right away and get huge discounts on services that are available because of cancellations, etc.
All you people who help with school and community fundraising:  Woodhouse loves to do "spirit nights" and will provide baskets for silent auctions.  They WANT to work with the community.
Here's what to expect when you arrive for a service:
You'll be greeted at the front desk and be guided throughout your spa experience.
The changing lounge is next where you'll be given:
The quiet room is next and includes a tea station, snacks, water and cozy comfortable seating.
Your therapist will retrieve you from the quiet room and take you to your service.
You will never ever have to be worried about what to do next, where to go next, and when.
It feels like a home where you are guided by the hostess.
It's cozy and comfy but NOT hoity toity.
Woodhouse's cleaning  protocols are intense and include hospital grade disinfectant.  You can wear a mask if you want.  You can also ask the therapists to wear a mask if you prefer.
A few more things to note….they have a massage treatment room with shower feature…I've never seen anything like it.
They have all of the following and more that would be excellent gifts or stocking stuffers:
Phytomer products
Nuface skin and/or facial toning device, wrinkle releaser
Derma flash "Best of Beauty Allure winner".  Excellent for removing peach fuzz from your face.
Foreo cleansing silicone devices.  Every teen with acne needs one.
Footies, mittens, wraps
Skin Ceuticals products
Babor products
Farmhouse Fresh….farm to skin products
Shower spa mist…for those who shower and don't take baths (They gave me a sample and when it runs out I'm going to buy a big bottle!)
Bath and shower bombs
Voluspa kandles
Mansfield robes…and so much more!
The Woodhouse Day Spa Dunwoody
4400 Ashford Dunwoody Road Northeast
Perimeter Mall (Between Dillards and Von Maur with an outdoor entry and reserved parking)
Atlanta, GA 30346
(770) 377-3505
dunwoody@woodhousespas.com