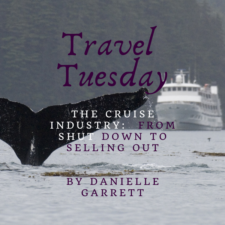 by Danielle Garrett of PlanIt Travel Designs for The Aha! Connection
The pandemic had a devastating impact on all global tourism, but the cruise industry has taken the hardest punch to the gut.  The losses are staggering!  Prior to Covid-19, the cruise ship sector was one of the fastest growing in the global tourism industry.  With an estimated value of more than $150 billion, the cruise industry had been forecasted to reach a record level of 32 million passengers in 2020.  Fifteen months later, the cruise industry in the U.S. may finally get their long-awaited re-start!
The cruise industry re-start in the U.S. has been put on hold many times, but this has not deterred hard core cruisers from booking further out!  Cruise customers are booking a year out, where an average booking window in 2019 was six months.  This is shown in the strength of the 2022 bookings, which is causing some cruise lines to open 2023 and beyond.  Some cruise lines expect 2022 to be stronger than 2019.  The bottom line here is, if you are a cruiser (ocean or river) or hope to cruise in 2022, BOOK NOW!  For you last minute travelers, it looks like many cruise lines are finally beginning to sail by next month.  Click here for the most recent list of cruise lines/current sail dates.
Many cruise lines like Oceania, Holland and Crystal are open to only vaccinated travelers.  Other cruise liners like Royal Caribbean require 18 and older to be vaccinated and below 18 will need a negative Covid test.  Like most travel destinations in our post-pandemic world, there are specific protocols, restrictions and changes and cruising is no different.  Click here for more information on how each cruise line varies in their vaccination requirements.
Bon Voyage to All!
Please remember to travel responsibly, wear your mask and do not travel unnecessarily if you are elderly or immune-compromised! And remember to check your destination's travel restrictions/requirements before and during planning, as well as double-checking before departure!
Join the PlanIt Travel Designs Facebook Group and check out the website where you can sign up for our newsletter for more travel tips and tricks!