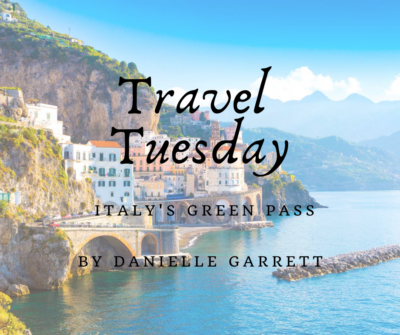 by Danielle Garrett of PlanIt Travel Designs for The Aha! Connection
The Delta Variant is becoming a concern for many travelers.  Having a crystal ball would be extremely useful at the moment, as it is my most asked question right now…" what do you think about the Delta Variant and my trip?" 
This is a personal decision, as everyone has different views on what is considered a risk.  Two things that I know for sure, the Delta Variant has not slowed down domestic travel and international travel is definitely easier and safer for vaccinated travelers.
Several European countries are putting measures/restrictions in place to fight the Delta Variant, drive up their vaccination rate and
avoid another lock-down.  At the moment, these restrictions affect unvaccinated travelers.  Beginning August 6, Italy is requiring proof of vaccination to dine indoors and enter museums and cathedrals.  Europeans will be required to present a Green Pass.  Americans do not have access to their Green Pass.  However, we can show our CDC issued vaccine card, along with ID (passport).  You can also dine indoors, etc. by showing proof of a negative Covid test within 48 hours, but this would be a complete hassle for any person on vacation. Masks are still required indoors in Italy, but not outdoors.  The Covid test required to re-enter the U.S. after traveling internationally is still in place. 
Green Passes are being introduced in 13 countries at the moment. 
Covid protocols and restrictions are very fluid, so if you are planning to travel internationally, make sure to check your destination's entry rules regularly. Delta Airlines offers a great interactive map to check entry rules. 
Please remember to travel responsibly, wear your mask and do not travel unnecessarily if you are elderly or immune-compromised! And remember to check your destination's travel restrictions/requirements before and during planning, as well as double-checking before departure!
Join the PlanIt Travel Designs Facebook Group and check out the website where you can sign up for our newsletter for more travel tips and tricks!   Also, follow them on Instagram for beautiful photos!