by Danielle Garrett of PlanIt Travel Designs for The Aha! Connection
Who doesn't LOVE train travel!!  Europe has perfected this by making train travel easy, relaxing, scenic, and efficient.   I am not sure if we will ever get to that level, but the U.S. railroad system has introduced a new train experience that may satisfy lovers of train travel!!
Western Canada's luxury scenic train lines, the Rocky Mountaineer, just launched its first U.S. route on August 15.  This two-day route, known as the Rockies to Red Rocks, runs back and forth between Denver, CO and Moab, UT.  Passengers are taken through several regions of CO before entering canyon country in Southern UT.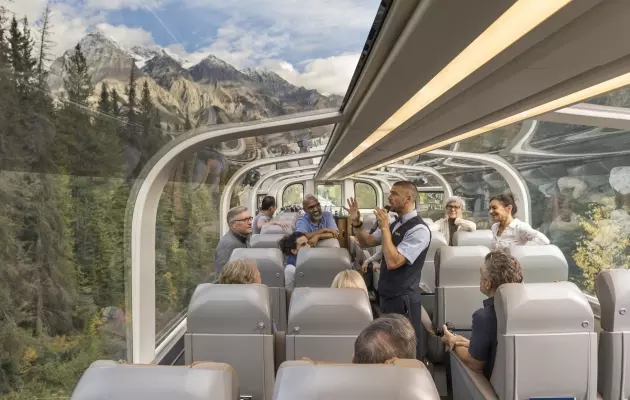 Even though the U.S. is not known for train travel, it does offer a few other scenic trains in the west (The Durango and Silverton Narrow Gauge Rail).  However, neither can match the food and beverage experience and overall luxury offered by Rocky Mountaineer.  Since 1990, Rocky Mountaineer has won many travel awards including the most recent Globe Travel Award in 2020, "Best Rail Company".
Below are some of Rocky Mountaineer's top features:
Rocky Mountaineer is a multi-day trip, but you do not sleep on the train. Each evening you will disembark the train and spend the night in a hotel.  The train only travels during the day to maximize the scenery and allow guests a better night's sleep.
The food and beverage program does not offer a classic dining car experience. Instead, each row is treated as a table at a restaurant with personalized service, scheduled meals and drinks on demand.
The menu features local ingredients that tie into the area you are traveling through.
This is an all-inclusive experience. Both the SilverLeaf class and SilverLeaf Plus class include all meals and drinks (including alcohol), seats adjacent to oversized glass-dome windows and an overnight hotel stay. 
Each car has a small outdoor viewing platform to enjoy those mountain views!
The Rocky Mountaineer can be ridden in either direction.
Click here for more information about this new travel experience, including an example of a two day journey.  The Rocky Mountaineer is currently offering two promotions: Rockies to Red Rocks August promotion of $300 off per couple (expires Aug 31) and Final Call 2021 promotion offering 2 free hotel nights (expires Oct 7).
Please remember to travel responsibly, wear your mask and do not travel unnecessarily if you are elderly or immune-compromised! And remember to check your destination's travel restrictions/requirements before and during planning, as well as double-checking before departure!
Join the PlanIt Travel Designs Facebook Group and check out the website where you can sign up for our newsletter for more travel tips and tricks!   Also, follow them on Instagram for beautiful photos!