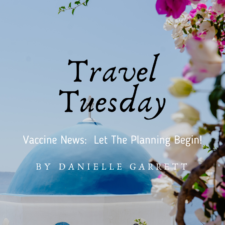 by Danielle Garrett of PlanIt Itineraries for The Aha! Connection
2020 has been the year that no one will ever forget (in fact I think I've developed a Covid twitch), but yesterday's Pfizer vaccine news may be the cure to my twitch and certainly brought a lightness to my step that was greatly needed!  There are many things I have missed due to Covid…hugging people, seeing my Mom, seeing people's faces without a mask and TRAVEL!
Yesterday's stock market shot up to record highs with the vaccine news and travel related stocks were a big part of the rally.  Airlines, Disney, Marriott, Hilton (to name a few) were all up.  Cruise lines like Carnival and Royal Caribbean were each up more than 30%!  There is no question that if the vaccine remains on this path,  you will begin to see a correlation between the upward trend of travel related stocks and the increase of airline/hotel/travel related bookings. 
According to Yahoo Finance, Pfizer plans to apply for emergency use authorization of the vaccine at the end of this month.  Chief Economist at Apollo Global Management noted "with the vaccine news, households and firms are going to plan ahead, for example by booking travel and vacations."
I 100% agree and have been urging clients to plan ahead.  There is limited risk, as hotels have introduced much more flexible cancellation policies and airlines are waiving change fees (for now).  There's also travel insurance, which is less expensive than people realize. 
I have seen a drop in airline pricing for domestic and international flights.  CNBC reported back in late September that domestic flight pricing is 41% lower and international flights from the U.S. are 35% lower than last year.  BUT, as bookings begin to increase, the pricing will creep up as well.  We will also begin to see this affect resorts/hotels availability, as everyone who missed their 2020 vacation will book for 2021 (that is a lot of people)!
Yes, we still need to wear a mask and be a responsible traveler (at least until the vaccine is widely distributed), but let's get excited about the planning process!  Having something to look forward to will make for a great way to end 2020!  I, for one, can feel the Caribbean breeze, hear the Italian accordion music and after 2020 I will be fully participating in a cheesy, touristy luau (with a yummy frozen drink in hand and a huge smile on my face)!
Please remember to travel responsibly, wear your mask and do not travel unnecessarily if you are elderly or immune-compromised!
Join the PlanIt Itineraries Facebook Group and check out the website where you can sign up for our newsletter for more travel tips and tricks!