by Audra Anders for The Aha! Connection
Peggy and I sat down with Linda Rickles over coffee and tea at the Dunwoody Village Starbucks last week.  Peggy and I have very little experience with interior design and agree this was one of the most interesting client interviews we've done!
Let me tell you about Linda Rickles:
Linda was born and raised in Massachusetts and is a Boston University graduate and took continuing education courses at Harvard.  Linda's mom and grandmother were both interior designers; her mom in Massachusetts, her grandmother in Palm Beach.  Linda carried on the family tradition and has been an interior designer for 25+ years.  Although it would have been much easier to stay in Massachusetts near friends, family, and existing clients; Linda moved to Georgia in 1999 in search of warmer days, sunshine, and shorter winters.  She now resides in Sandy Springs with her adorable rescue Maltese, TuTu.  
Although most of Linda's clients live in the Dunwoody/Sandy Springs community, she travels far and wide to help her clients.   Some of her favorite projects are for clients' second homes or second time through renovations.  I personally have never worked with an interior designer which you'd probably guess this if you stopped by my home for a visit!  Because of my naïveté, I peppered Linda with questions about how the process works and here's what I learned:
If your house doesn't function as well as you want or you are simply ready for an update….hire Linda.  She collaborates with her clients to create a vision for them, then designs a more beautiful and a more functional space.  Her objective is to make homes more welcoming and livable, by creating timeless elegance through color texture and light.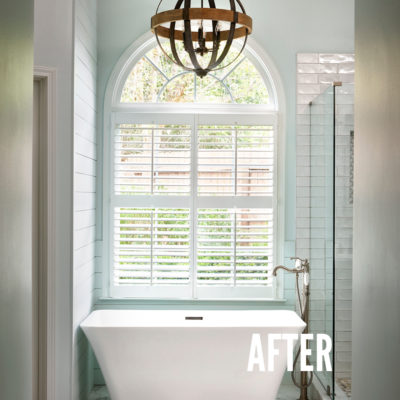 Following are a few examples:
Nancy Echikson, my Meadowlake neighbor, felt the need for a lighter, more functional kitchen. Nancy loves to cook and does so often.  After collaborating with Linda, Nancy now has practical cabinets/counters including a mixer that pops up, streamlined counter space, better lighting, and new larger windows.


| | |
| --- | --- |
| Nancy Echikson – Before Kitchen | Nancy Echikson – After Kitchen |

I recently had to help move one of my Aunts from her 25+ year residence to an assisted living studio apartment in Roswell.  I wish I had known beforehand Linda is a Certified Aging in Place Specialist (CAPS).  She helps older clients who want to stay in their homes for the remainder of life.  Linda has designed additions of first floor master bedrooms, added lifts, extra bathrooms, curb free showers, hand rails, wider doors for wheelchairs etc.   Linda has former experience as a medical interior designer.  Function is VERY important for medical interiors so this experience is very useful for Linda's aging in place clients.
My backyard deck is 20+ years old and it is well past due for a replacement.  I asked Linda if I wanted help figuring out my design options what would the process look like?  The answer?  Basically, Linda would first come over and see how the current deck functions for my family and learn our desires for change.  We would then collaborate to determine if we want a new deck or a four seasons room and a deck, or a patio, and/or a screened or covered porch, etc.  We would discuss our wants and needs and she'd come up with the perfect design for my family within our financial and hardscape boundaries.  Linda likes to bring the outside in so I think I'll invite her over! 
I asked her about current trends and we discussed:
Wallpaper is coming back with textures, big murals, huge florals 
Gray is out – "friends don't let friends decorate with gray"
Wall color and texture are in…..if you have grasscloth paint it!
Color and design are Linda's loves – she is a Certified Color Expert, CCE.  Linda told us that color consultations are a lot about light.  Choosing the right colors really depends on what the exposure is to sunlight and how the room is used.  Linda helps clients develop color schemes.  Apparently an entire house can have different colors but still all flow together!
Linda's latest and most fun project:
Renovating a house in Skylake in North Georgia about 40 minutes north of Helen.  The homeowner lives in Florida but this is a second home.  The house was built in 80's atop a mountain with a gorgeous lake at bottom.  Linda has designed a fantastic transformation of the space, bringing the outside in while working to incorporate existing items from the home that the homeowner particularly loves. 

More fun facts:
Linda's house – One of the first acrylic coffee tables ever made and other various items from the 60's from her grandmother's collection of designs are proudly displayed in Linda's home.
Linda's front door color – Black Ink. It's blue but looks black.  Linda also likes British Racing Green for a front door.  Every color has an undertone so she likes how certain colors look in different light. 
How Linda helps clients with furniture ideas:
Merchandise Mart or Decorative Arts Center – she will walk through with clients and get a feel for what they like or don't like therefore obtaining a vision to work with for the clients furniture needs.  
Linda will go through client homes to determine what clients want to keep and what they want to toss.
Finally, Linda works with certain furniture vendors known to be reliable and a good value.
When she comes in for an initial consultation she really wants to find out what the client wants and WHO they are as people … who is making the decisions, what do they see or want or envision.  It's not what Linda wants or her taste, it's finding the right balance, proportion, and harmony to the space that matters – height of ceiling and wall, scenery, how is light reflecting or refracting, climate, etc.  Fun fact:  Linda studied Feng Shui in college and tries to incorporate it in her designs because she knows it can help the design  "feel right"!  Linda brings the experience to know what works and doesn't work with house design and vision.  She regularly works with structural engineers, painters, electricians, architects, etc. and can bring specialists in as needed.  Call her today for a design consultation!
Linda Rickles Interiors

Sandy Springs, GA
(770) 395-6726
lindaricklesinteriors@gmail.com
Voted "The Best Interior Design Firm in Sandy Springs 2022-2023″