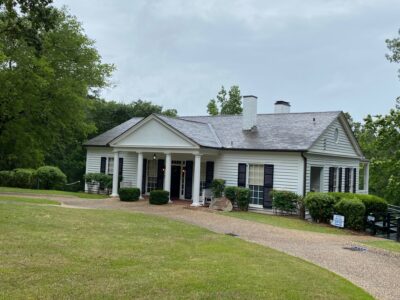 By Christina Mimms for The Aha! Connection
Just south of Atlanta lies an important piece of American and presidential history – Franklin Roosevelt's Little White House in Warm Springs, Ga. A drive here makes for an easy day trip from Atlanta and a glimpse into a time capsule of sorts with its significance.
Roosevelt learned of Warm Springs and its therapies for polio patients in 1924, long before he was elected U.S. president in 1932. The naturally heated waters provided relief for him, other adults and children stricken with polio and other ailments. Charmed by the town and befriended by many in the area, Roosevelt built a cottage 1 mile from the springs that later became known as the Little White House.
He visited at least twice per year until his death in Warm Springs on April 12, 1945, at the cottage where he was posing for an official portrait. The "Unfinished Portrait" is part of the tour of the Little White House, which includes an 11,000-square-foot memorial museum, the cottage, guest house, servants' house, Legacy Center and grounds. For a small additional fee, you may also tour the Historic Pools Museum.
The artifacts in the FDR Memorial Museum represent Roosevelt's life and presidency as well as a snapshot of the state of the world during the Great Depression. A short film about him and his experiences at Warm Springs is available and definitely worth watching.
A takeaway feeling from the visit to this center is humility. This man of great privilege lived rather a simple existence at Warm Springs. No doubt that was a reflection of the times and the need for simplicity given the economic crisis and a major World War. Perhaps he enjoyed escaping the grandeur of Hyde Park and the stress of Washington, D.C., for his small cottage tucked away in the pines. Seeing how a sitting President lived in such modest surroundings was eye-opening.
A walk through the Historic Pools Museum and springs (now drained except for one small basin) was humbling as well. This center shows not only Roosevelt's experience at the springs but a great deal of information about polio, the patients who sought treatment there and the all-important polio vaccine. Anyone who has questions about current vaccines would be well served by visiting this center and learning more about the significance and impact of vaccines.
Warm Springs is about an hour and 15 minutes from Atlanta, located about 30 miles off I-85. Tickets are $12 for adults and $7 for children. Guided tours are available with reservations and an additional fee. For more information visit their web site.