The Perimeter area is abuzz lately …. you can't miss the construction and planning for the new High Street when you drive around and the State Farm Campus keeps adding interesting concepts.  Today we were invited to check out Sankranti Kitchen … this fast-casual restaurant (think Chipotle for Indian food) serves up popular Indian favorites in a delicious, affordable way! 
Parking is free (for two hours) and EASY.  Just pull into the garage and walk up one flight of stairs (or take the elevator).  The interior is colorful and inviting and, just in time for the warm weather, Sankranti now also offers outdoor patio seating.  It was the perfect place for a weekday lunch.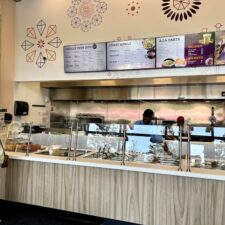 The menu is very simple and approachable and any of the staff will happily guide and advise.  Basically you build your own bowl or salad or roll.  The ingredients look and taste super fresh and the vegetables are cooked to order as is the lamb.  Don't forget to add a Mango Lassi or Rose Milk to round out your meal.  They will soon be able to offer beer and wine as well making it perfect for your summer happy hour location. 
Audra (who is gluten-free) had a build your own Curry bowl with Jeera rice (plain white rice), Chicken Tikka Malasa with an added veggie medley.  Peggy had a build your own Indie bowl with Palau rice (rice with veggies), Mango Chicken (crispy and sweet) and Pulao chicken (the perfect amount of spice).  We both opted to top ours with the cabbage mix as well which gave it an extra crunch and we both cleaned our bowls! 
Sankranti Kitchen
237 Perimeter Center Pkwy, Suite #H-56
Dunwoody, GA 30346
From the website:  Founded by Srinivasa & Kavitha Nimmagadda, Sankranti was the response to Mr. Nimmagadda's desire to make a mark within the restaurant business as his hunger for the food industry and his passion for cooking grew.  Our name, Sankranti, (pronounced – 'san-KRAN-tee' ) is derived from a Sanskrit term that translates to "positive change." Historically, Sankranti defines the time when the Sun God transitions (changes or kranti) into the zodiac sign of Capricorn, marking the end of the Winter Solstice. It is celebrated with a 3-day festival, a time to commemorate change, prosperity, and family. We shaped our menu to reflect the most popularly consumed food throughout the subcontinent.
At Sankranti, we strive to bring the culture and abundance of Indian hospitality and celebration to each and every one of our guests, and share with you a true festival of food!