by Audra Anders for The Aha! Connection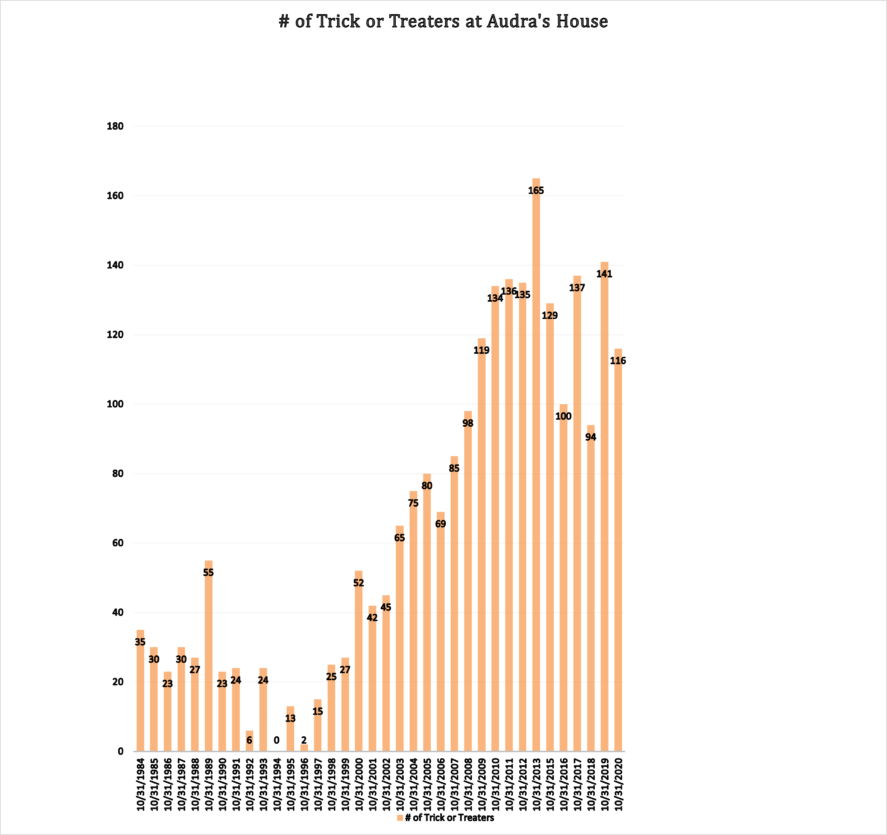 My husband and I bought our home from the original owners in 2002. The Orgerons loved Halloween. Interestingly enough, they kept a tally of the number of trick-or-treaters that came to the front door each Halloween since 1984. We kept up the tradition of counting as accurately as we can with the help of all our Halloween guests each year! We missed 2014 because we were in Oxford, Mississippi for college football but we've been very strict counters except for that year! We are down this year. I'm going to blame the corona-virus.   Had we not been in the midst of Covid-19, I believe our numbers would have been up because the weather was amazing and it was a Saturday night!   116 is not too shabby…..here are a few highlights…….
Little brother Luke Haynes dressed as his big brother Connor Haynes #18 on the DHS Varsity Football Team!  Luke's partner in crime was Mason Moore AKA Larry Culpepper.
My husband bought us a new portable fire pit and set it up in the driveway so I could watch the cute costumed kids grab candy.   It was cozy and fun.
I loved seeing the creative ways that people prepared for Covid safety.   I saw two candy chutes, several individually wrapped treat bags, and a couple of clever spider web contraptions with candy clothes-pinned to the web!
Were you up or down on your trick or treat numbers? Please leave a comment and mention where you live!