by Audra Anders for The Aha! Connection
My youngest fell in love with Chemistry in 8th grade.  I would never ever have guessed this would happen in a million years.  I credit Brad Daniell, Walt's 8th grade science teacher at Peachtree Charter Middle School.  Walt loved Mr. D's class so much that when he found out Brad and his wife Rebekah were tutoring kids outside of school, he signed up for biology tutoring in the SUMMER.  Science in the summer for a child who always preferred to be outside playing sports all day long with his friends?  I couldn't believe he wanted to do it, but he didn't miss a session.  He couldn't get enough of science all through high school.  He's just finished his freshman year studying to be a Chemical Engineer at Auburn University.  Seriously…and it's mostly because Mr. D taught him to love chemistry when he was 12 years old.
I ran into Brad and Rebekah at a recent graduation party and couldn't wait to snap this photo and send to Walt.  He still texts Brad to thank him from time to time and was thrilled to know I ran into them.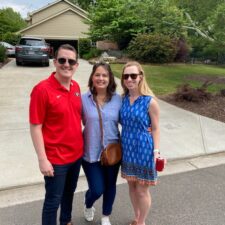 Brad and Rebekah started what is now Daniell Tutoring in 2012. However, the summer after Walt's 8th grade year (2016) was when Brad and Rebekah's tutoring business was really starting to skyrocket.  I can remember how students and their parents flocked to them for math and science tutoring.  Soon after, one Dunwoody mom suggested a pre-9th grade Biology tutoring session since many Dunwoody High freshmen were struggling to do well in the class at the time.  I think this idea single-handedly increased freshman biology GPA's at DHS! Their business has morphed over the years to be what parents and students need the most.
Let's back up a little….just who are Brad and Rebekah Daniell?
Both are from metro Atlanta….and started dating in high school.  They went to separate high schools, separate colleges, and separate graduate schools and married in June of 2010.  Brad is currently an assistant principal at Kittredge Magnet school, but this article is about Rebekah's new venture so let's focus on her for a minute….
Rebekah received her undergraduate degree in Consumer Journalism from the University of Georgia in 2009.  Her original goal was to become a K-12 librarian so in 2012 she obtained her masters from Georgia State in Library Media.  She interned at both Peachtree Middle and The Trinity School and worked at The Trinity School for 4 years.  She then moved to Oakcliff Elementary in Doraville and then onto The Lovett School where she was most recently the Director of Academic Technology.  Now, she's working full time for Daniell Tutoring and in July she will obtain her certification as an Independent Education Consultant.   What's that you say?
Here's how it happened and what it means: Daniell Tutoring has continued to morph into what their students need.  In 2017, Brad and Rebekah started ACT/SAT tutoring.  Now, for the last five years they've mostly focused on test prep and college admissions consulting.  Rebekah's 2021 "college admissions" graduating class had 26 students.  Her 2022 graduating class was 40+.  2023 (the current rising senior class) is already full!  It is best to start college planning in 10th grade so the time is right for the class of 2025 to sign up now!  There are also just a few rising junior spots available.
Here's what Rebekah's students get to take advantage of:
Resume building
Help with choosing, writing, and editing college essays
Student profile assessment
College touring advice
Help choosing a school where they will thrive and flourish
Staying focused on timelines and goals for college applications, visits, etc.
Rebekah's face lights up when talking about helping kids find the right fit for colleges.  She helps them consider factors such as:
Miles from home
Weather
Greek life
Intramural Sports
Religion
Size of school….(bigger or smaller than DHS, Marist, etc.)
SEC Sports
It is well known that private school counselors do many of these things.  Unfortunately, the public school counselor role is very different so I consider Rebekah as a support role for high school guidance counselors.  She went through her roster with me and although most of her students are from Dunwoody High, she also has students from Gwinnett STEM Academy, Chattahoochee, Johns Creek, Marist, DeKalb School of the Arts and St. Pius X.  Had Rebekah been offering this when my kids were sophomores, I would have immediately signed them up!  You may be reading all this and thinking… I've got to sign my sophomore or junior up now!  Or…oh noooooooo I missed my chance.  Well, the good news is that they periodically offer standalone college essay workshops.
Even better news….they have an end of year celebration for the students with a cookout and graduation gifts!
Brad and Rebekah understand how nerve-wracking and stressful the college admissions process can be for families.  Given the uncertainties of the upcoming year and more schools going test-optional, now is a great time to consider receiving guidance on college admissions. They do not take complete control of the process but rather they allow the student to take ownership of the process while providing feedback and recommendations to them when applicable.
If you follow Daniell Tutoring on Instagram before June 30th, you will be entered to win either a free hour-long tutoring session or a UGA/GT essay workshop.
Daniell Tutoring
2526 Briers North Drive
Atlanta, GA 30360
770-262-1459
danielltutoring@gmail.com