Recent excerpts from our Lunch with Lauren Facebook Group by Lauren Townsend for The Aha! Connection
Follow us on Facebook
Follow us on Instagram
I bought this mix/kit from Walmart a few weeks ago. The girls made these s'mores cookies tonight and they were SO good. The only difference is that I flashed them under the broiler for a few seconds to toast, but the girls were able to do the rest.
Snack Request Form
I made extra rice last night bc I knew I wanted fried rice tonight. I had frozen veggies left over from the SUPER popular 🙄 shepherd's pie I made last week; some pork that would be questionable by tomorrow and apparently I panic bought eggs over and over. Ta da! Fried rice.
Under normal circumstances, I would also have oyster sauce, but I do not. So you scramble an egg and set it aside. Then in a BIG pan, preferably non-stick, cook meat and vegetables with garlic. Garlic is a must. Then add butter and COLD cooked rice. Saute and add soy sauce and sesame oil (if you have it). And then the cooked eggs. You'll definitely need soy sauce. Season to taste.
This is a carb family. I used to love my mom's fresh baked bread. She would pull it out of the oven and we'd eat the whole thing with butter. I made some tonight and we ate it all. I'll share her recipe with yall:
Buy frozen bread.
Proof overnight in bread pan.
Bake until golden at 350.
Have room temperature butter
As many of you know, my husband and I spent most of our professional lives in the kitchen. The future is uncertain for all of us, but most hourly food service workers are being sent home and most without pay or knowledge of when or if they will work again. If you know someone in the food service industry, please share these resources with them: https://www.theahaconnection.com/attention-dunwoody-restau…/
There is also a link to donate, if you are able.
🍀Happy St. Patrick's day🍀 *insert Julia child voice here* Today on cooking under quarantine…corned beef and cabbage. Pretty standard and easy. I do prefer to saute cabbage to boiled. We'll get one more meal which I'll turn into a sweet potato hash and im freezing all the beef broth for sauce. Lynn Townsend also made some delicious soda bread that he wont shut up about.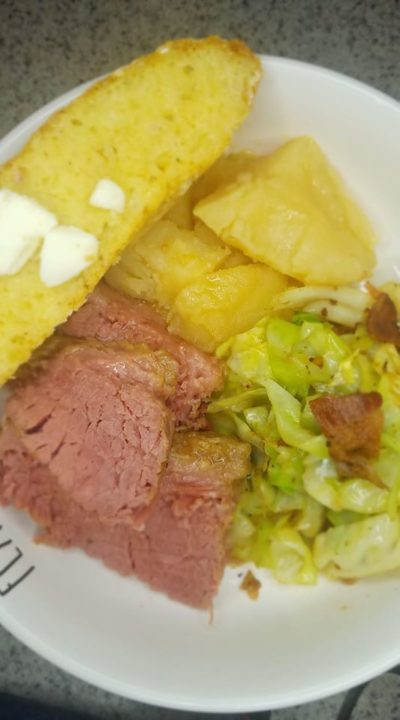 I don't think you should panic, but as always, I do think you should try not to be wasteful when cooking. I bought a bag of potatoes, pre-panic, that were starting to sprout. Tonight they will be mashed potatoes, tomorrow they will be shepard's pie and if there is still more, loaded baked potato soup on day 3. Use what you have wisely before snatching up a bunch of stuff that may go bad. Cook or freeze things that may go bad quickly. If you used to eat out once a week, order take out. Text or message if you have questions.
So as promised, I used yesterday's mashed potatoes to make shepherd's pie. Everyone over the age of 10 was super thrilled.
Heated leftover chicken with oil and flour to also make a roux. Slowly added stock, salt and pepper and eventually frozen veggies. I covered each with mashed potatoes and put under the broiler. It was delicious but did contain more veggies than my kids are happy about, but cleaned out some fridge space.