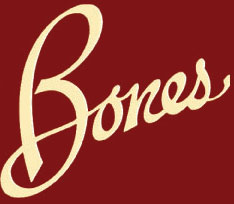 This last week my family and I dined at Bones Restaurant in Buckhead.  It was a very special treat for my birthday.   In addition to being world reknown for their steaks, their "Bones
burger" was ranked the number 1 burger in the city by Atlanta Magazine in 2015. This burger did not disappoint. No odd toppings were included, just your typical lettuce, tomato and mayonnaise-and a really well prepared and cooked burger. Being a steakhouse, this should be expected. They already have the finest meats for their steaks, so it only makes sense that they have premier beef for their burgers. Although I wouldn't quite put it up with the ranks of the "sloppy slaw burger" or "the Hank", it was delicious.
When making the reservations, Mom noticed that the burger was absent from the dinner menu.  She was able to get special advanced permission from the chef to order the burger at dinner.  So, if you want to try the Bones burger make sure to go at lunchtime!
Rating:  8 out of 10
Bones Restaurant
3130 Piedmont Road NE
Atlanta, GA 30308