by Danielle Garrett of PlanIt Travel Designs for The Aha! Connection with a little help from Audra who traveled all the way across the world to take photos for this giveaway 🙂
She's in Roma!  Valerie Burke was randomly chosen as the winner of everyone who guessed Rome from her envious photos below!  Valerie has won a $25 Giftcard from Village Threads!  Where will Audra be next?…..Watch and follow The Aha! Connection's Instagram and Facebook then comment on Audra's next photo post with the correct location to possibly win a bottle of Michael's Wine from Vino Venue.
AUDRA IN ROME!
Audra and her family have now spent their first 24 hours in Rome.  Besides the time it took to get through customs, they entered the country easily with vaccination cards in hand.  I can't tell you where they are off to next, but I can tell you they had a great first day in Italy's capital city.
Many visitors stay close to the Colosseum in Ancient Rome.  This is an extremely important and fascinating part of the city to explore, but I highly recommend picking accommodations in a more charming neighborhood.  The Piazza Navona area is where Audra is staying, which is still within the historic city center.  This area offers historic charm with cobblestone streets, evening atmosphere, great hotel and apartment options and plenty of wonderful (less touristy) restaurants, cafes and shops. 
In fact, Rome offers so much more than just the must-see ancient sites.  If you are not leaving time to explore some of the city's fantastic neighborhoods, you are missing out!  You never know what you may find while taking in the atmosphere at one of the authentic neighborhood piazzas.  I was lucky enough to be entertained one evening by local musicians and an artist while shopping at a small local artisan's market in a Trastevere neighborhood piazza.  It was magical!! 
I highly recommend a short 2-hour tour on your first day to get yourself familiar with the city (I call this a "Welcome to Rome" tour).  Using a guide in a big city like Rome offers so much ease and relaxation.  Who wants to waste time being lost, especially if you are short on time?  A guide is the most efficient way to see the city and opens up your day to explore on your own (and usually with some great local tips)!  During Audra's tour today they were able to see the Trevi Fountain, Spanish Steps, Pantheon, Column Square, the Piazza Navona area and more.  A great guide will make these sites come alive with captivating history! 
They ended their day with drinks on their hotel rooftop taking in panoramic city views lit by a bright orange moon.  The Eternal City gifted Audra and her family with a War Eagle moon!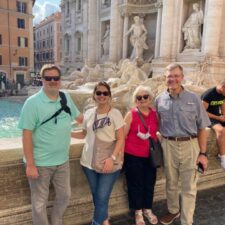 Please remember to travel responsibly, wear your mask and do not travel unnecessarily if you are elderly or immune-compromised! And remember to check your destinations travel restrictions/requirements before and during planning, as well as double-checking before departure!
Join the PlanIt Travel Designs Facebook Group and check out the website where you can sign up for our newsletter for more travel tips and tricks!  Also, follow them on Instagram for beautiful photos!
Thank you to our sponsors for "Where's Audra?"  ESPECIALLY DANIELLE FROM PLANIT TRAVEL DESIGNS!