by Lauren Townsend for The Aha! Connection
FūDO (food-oh) in Chamblee is self-described as Asian mix or fusion, which was immediately off putting. I've found in most situations fusion is just short for confusion, but I'll admit that FūDO is a tasty exception. 
We started with the grilled Brussel sprouts with creamy garlic ponzu. I need this recipe. I'm a big fan of Brussel sprouts and these were great. It was crispy with this creamy, balanced dressing. It's a small plate, so don't expect an entree portion, but you may want to get your own.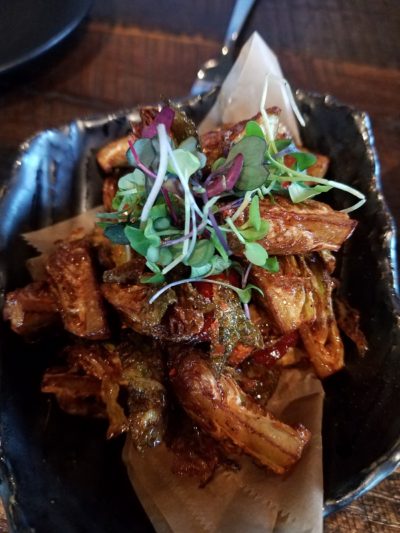 My husband doesn't eat any seafood, let alone sushi, so he ordered the Katsu-don crispy pork with balsamic teriyaki, butter corn, and pickled vegetables. These are all his favorite things, pork, check, corn (he's from Iowa), check, pickled vegetables, check. Prior to FūDO, our family would go to Cowfish (R.I.P.) when someone had a sushi craving because they had great options for carnivores. While they don't have those adorable little bento boxes, FūDO has great, tasty, high quality options for both vegetarians and non-fish eaters. 
My mom and I split two different fusion rolls and some tobiko sushi. She was immediately put at ease when she saw all Asian sushi chefs behind the counter. The first roll, Hot Night, is fried scallops, mango, sriracha, and spicy aioli, topped with tuna, scallops, wasabi lime, spicy kabayaki sauce, scallions, red tobiko, kizami nori. The second was Smoky Delicacy, salmon skin, crunch, cucumber, scallions, and masago topped with smoked salmon, avocado, spicy kabayaki sauce, basil aioli, togarashi. Both were equally great and even though the sushi roll menu was a lot to read through, I found at least 8 other rolls that I would have been happy to try.
If you love a good cocktail, be sure to check out their bar menu. I tried the Dancing with the Stars which is vodka, St Germain, Aperol, grapefruit, lemon juice, elder flower syrup, and prosecco. 
Possibly helpful information: I didn't see a children's menu, but I also didn't ask. The interior is very clean with lots of hard surfaces, so the music seemed to reverberate maybe louder than they intended. If the weather isn't sweltering, you can sit outside. We parked over by the new CHOA urgent care but there is also a parking garage.
FūDO 
5070 Peachtree Blvd
Ste A100
Chamblee, GA 30341